On Sale Now!
by Lauren Lauzon
Great new romance from Cat Sebastian on sale from Avon!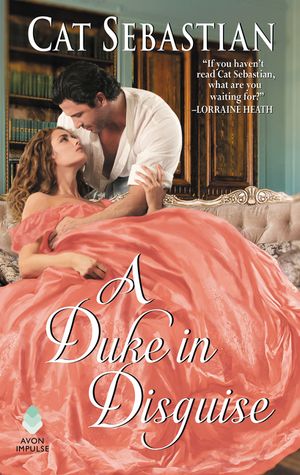 A Duke in Disguise by Cat Sebastian
If anyone else had asked for his help publishing a naughty novel, Ash would have had the sense to say no. But he's never been able to deny Verity Plum. Now he has his hands full illustrating a book and trying his damnedest not to fall in love with his best friend. The last thing he needs is to discover he's a duke's lost heir. Without a family or a proper education, he's had to fight for his place in the world, and the idea of it—and Verity—being taken away from him chills him to the bone
All Verity wants is to keep her brother out of prison, her business afloat, and her hands off Ash. Lately it seems she's not getting anything she wants. She knows from bitter experience that she isn't cut out for romance, but the more time she spends with Ash, the more she wonders if maybe she's been wrong about herself.