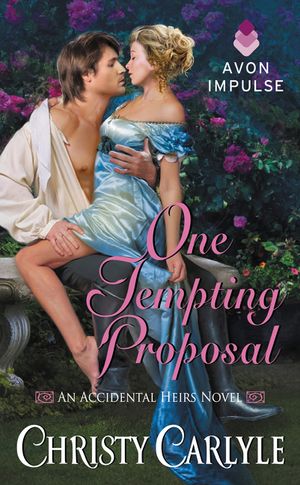 One Tempting Proposal
Release date: Nov 17, 2015
ISBN: 9780062428011
Becoming engaged? Simple. Resisting temptation? Impossible.
Sebastian Fennick, the newest Duke of Wrexford, prefers the straightforwardness of mathematics to romantic nonsense. When he meets Lady Katherine Adderly at the first ball of the season, he finds her as alluring as she is disagreeable. His title may now require him to marry, but Sebastian can't think of anyone less fit to be his wife, even if he can't get her out of his mind.
After five seasons of snubbing suitors and making small talk, Lady Kitty has seen all the ton has to offer…and she's not impressed. But when Kitty's overbearing father demands she must marry before her beloved younger sister can, she proposes a plan to the handsome duke. Kitty's schemes always seem to backfire, but she knows this one can't go wrong. After all, she's not the least bit tempted by Sebastian, is she?
An Avon Romance