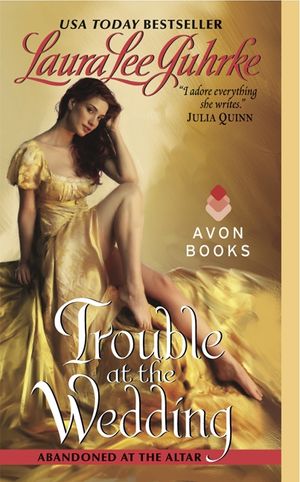 Trouble at the Wedding
Abandoned at the Altar
Release date: Dec 27, 2011
ISBN: 9780062096326
Annabel is about to marry the perfect man . . .
The last thing Miss Annabel Wheaton desires is true love. She learned the hard way that love makes a woman foolish and leads only to heartache. That's why she agreed to marry an earl who needs her money. He's got a pedigree and a country estate, and he won't ever break her heart. There's only one problem . . .
Christian isn't about to let her marry that pompous prig . . .
Christian Du Quesne, Duke of Scarborough, thinks the stubborn heiress is about to make the biggest mistake of her life, and he's determined to stop her. Tempting beautiful women is Christian's forte, after all. When her family offers him a nice sum of money to stop the wedding, he's happy to accept.
Falling in love with Annabel was never supposed to be part of the bargain . . .