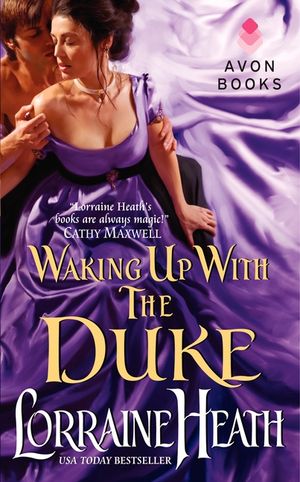 Waking Up With the Duke
Release date: Jun 28, 2011
ISBN: 9780062094841
They are masters of seduction,London's greatest lovers . . .
Renowned for his bedchamber prowess,Ransom Seymour, the Duke of Ainsley,owes a debt to a friend. But the paymentexpected is most shocking, even to anunrepentant rake—for he's being asked toprovide his friend's exquisite wife withwhat she most dearly covets: a child.
Living for pleasure, they willgive their hearts to no one . . .
Lady Jayne Seymour, Marchioness of Walfort,is furious that such a scandalous agreementwould be made. If she acquiesces, theremust be rules: no kissing . . . and, certainly,no pleasure.
Until love takes them by surprise.
But unexpected things occur with thesurprisingly tender duke—especially onceLady Jayne discovers the rogue can makeher dream again . . . and Ransom realizeshe's found the one woman he trulycannot live without.