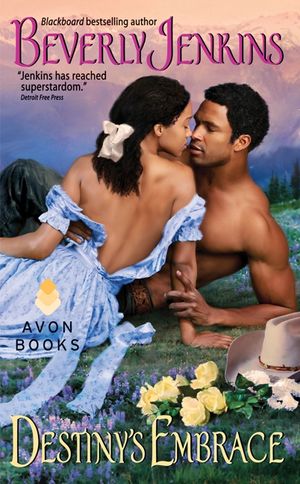 Destiny's Embrace
Release date: Jan 29, 2013
ISBN: 9780062031266
Gentleman Seeks Housekeeper.Must be willing to travel.
Desperate for another life away from Philadelphia, headstrong and beautiful Mariah Cooper answersan advertisement for a housekeeper at the otherend of the continent. Waiting in California isthe most breathtaking—and arrogant—man shehas ever met . . . and he'd like nothing betterthan for Mariah to go back home!
Logan Yates has run Destiny, the family ranch,since he was a boy. He doesn't need this Eastern misshis stepmother hired, though his home's chaoticstate suggests otherwise. Still, he's secretly pleasedthat Mariah gives as good as she gets—and he mustfight the urge to take her in his arms and kiss herwhenever she proudly stands her ground. But whenhe's in danger of losing her, Logan will have tochoose between pride . . . and his heart's true desire.