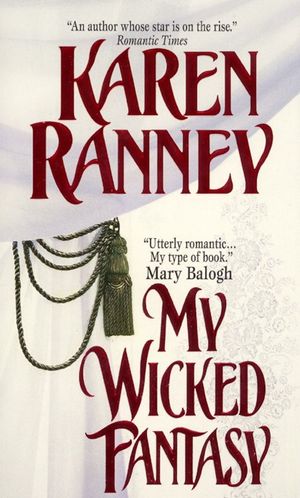 My Wicked Fantasy
Release date: Feb 24, 2009
ISBN: 9780061860867
An explosive encounter leads to . . .
After Mary Kate Bennett becomes a young widow, she's left to fend for herself without a penny. When she is in a terrible carriage accident, Mary Kate awakens in the bed of the mysterious Archer St. John—and to a life more luxurious than she could have ever imagined. But more unsettling is the desire this wickedly handsome stranger sets off in her.
The most intoxicating passion . . .
The whispers about Archer follow him wherever he goes. Did the reclusive nobleman murder his unhappy countess? When Mary Kate enters his life so unexpectedly, the bold earl is convinced that she has all the answers he's been searching for. So why can't he think of anything else besides her decadently red hair, her luminescent skin, and the feelings she evokes whenever she is near? Their love can be a fantasy— or it can be strong enough to seal their destinies forever.
KAREN RANNEY wanted to be a writer from the time she was five years old and filled her Big Chief tablet with stories. People in stories did amazing things and she was too shy to do anything amazing. Years spent in Japan, Paris, and Italy, however, not only fueled her imagination but proved that she wasn't that shy after all. Yet she prefers to keep her current adventures between the covers of her books. Karen lives in San Antonio, Texas, and loves to hear from her readers at karen@karenranney.com.
www.avonromance.com www.facebook.com/avonromance