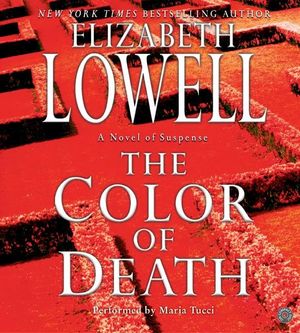 The Color of Death
Release date: Jun 22, 2004
ISBN: 9780060779061
The phenomenal New York Times bestselling author Elizabeth Lowell brilliantly displays her incomparable talents in a story of treachery, greed, conspiracy, and murder that will hold the reader spellbound until the final word.
It is the opportunity of a lifetime for Kate Chandler, the chance to cut seven rare, priceless sapphires and solidify her reputation as a world-class jewel cutter. But something goes tragically wrong during the transfer of goods. The sapphires vanish without a trace. Missing also is the man Kate trusted to transport the gems, her half-brother Lee, who now quite possibly is dead. Suddenly, she is on the run, pursued by federal agents who suspect her of being the criminal mastermind of a cunning bait-and-switch scheme.
Special Agent Sam Groves, an essential member of the FBI's elite strike force, could never be scammed by a beautiful confidence woman. But something is troubling about this assignment: someone else is chasing Kate Chandler as well.Kate suspects the awful truth: she has stumbled into a conspiracy that goes far beyond a simple jewel heist. Getting Groves, her constant shadow, to believe her is a step in the right direction -- because the order has already been passed down to a ruthlessly efficient assassin: Kate Chandler must not be allowed to live ...