Oct 10 - Book Review
In the Navy with Cathy Maxwell and THE SCOTTISH WITCH

I am celebrating Fleet Week with authors connected to the Navy, leading up to the Navy's birthday on Saturday, October 13. Cathy Maxwell needs no introduction. From her bio (at this link),

You would never believe: That I've spent six years in the Navy. I worked in the Pentagon and did a tour with Naval Intelligence. I've also managed a watch factory, been a news broadcaster, and done costumes for local theater. Tinker, tailor, soldier, spy.

Cathy with Kieran Kramer, Navy spouse, at RT/Chicago in 2012.
That's the making of a thriller novel ... lucky for romance readers, Cathy Maxwell writes heartwarming historicals for Avon Romance. If you attend the RT Booklovers' Convention, just listen for her laugh. Also from her bio,
You will never see me: With my mouth closed.
Patricia Rice, Christina Skye, Cathy, and Sue Grimshaw at RT/11 in LA.
Her laugh is infectious. Her panels are outrageous. Her warmth is comforting. Again from her bio,
What is the most important element to a romance novel: The characters. Strong characters can carry a weak plot, but weak characters can never carry a strong plot. The latter is like biting into a juicy apple and finding out it's nothing but mush inside.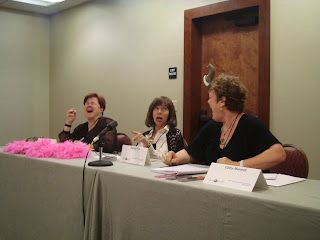 Eileen Dryer, Patricia Rice, and Cathy with elephant's nose.
Cathy creates memorable characters in her current series,THE CHATTAN CURSE. A Scottish witch curses the Chattanfamily in the 17th century when the heir abandons her daughter.
When a Chattan male falls in love,
Generations later, the current heir, Lord Lyon, seeks a wife that he cannot love in Book One,LYON'S BRIDE- which I featured at this link. LYON'S BRIDEreminds us that love is worth the risk. And Lyon's love inspires his brother, Harry, to find another witch to break the curse in Book Two,THE SCOTTISH WITCH- available October 30.
Oh, Harry, I have been waiting for you!
Harry has his own crosses to bear before he can help his brother ... and himself:
"If love means death . . . is it worth the price?"

Portia Maclean believes she is beyond love and marriage. Then one moonlit night, while attempting a daring masquerade in a desperate bid to protect her family, she finds herself swept off her feet by a powerful stranger. But what will he do once he discovers she has betrayed him?

Harry Chattan is fighting for his family. For two hundred years the Chattan men have been destroyed by love . . . and now he's come to Scotland on the hunt for a witch to break the curse. Instead he finds himself bewitched by Portia. Harry has vowed to fight the demons that torture him.

But will that battle destroy her as well?
Last Saturday, I attended a special book signing. From theMedal of HonorBook of Quotes,Thomas J. Hudner, Jr., United States Navy,
Our freedom, envied the world over, was attained
at great personal sacrifice -
we cannot allow it to wither away through apathy.
LtJG Hudner received the first Medal of Honor
from the Korean Conflict.
An Arleigh Burke class destroyer will be named after him.
Comments:
Connect with Facebook