New Titles on Sale!
by Lauren Lauzon
Great new romances from Julia Quinn, Ilona Andrews, Lorraine Heath, Eva Leigh, Sandra Hill, and Cynthia Eden on sale today from Avon Books!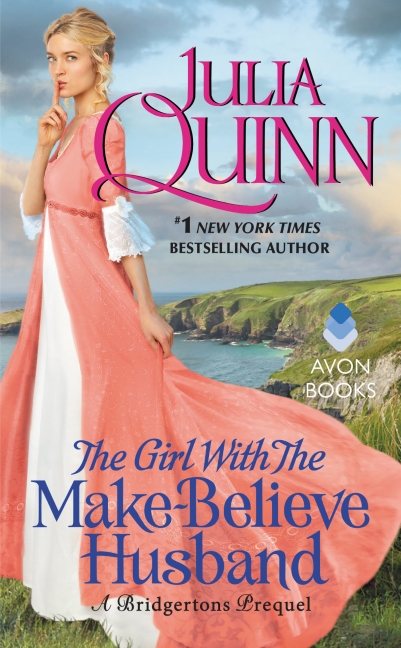 The Girl With The Make-Believe Husband by Julia Quinn
While you were sleeping…
With her brother Thomas injured on the battlefront in the Colonies, orphaned Cecilia Harcourt has two unbearable choices: move in with a maiden aunt or marry a scheming cousin. Instead, she chooses option three and travels across the Atlantic, determined to nurse her brother back to health. But after a week of searching, she finds not her brother but his best friend, the handsome officer Edward Rokesby. He's unconscious and in desperate need of her care, and Cecilia vows that she will save this soldier's life, even if staying by his side means telling one little lie…
I told everyone I was your wife
When Edward comes to, he's more than a little confused. The blow to his head knocked out three months of his memory, but surely he would recall getting married. He knows who Cecilia Harcourt is—even if he does not recall her face—and with everyone calling her his wife, he decides it must be true, even though he'd always assumed he'd marry his neighbor back in England.
If only it were true…
Cecilia risks her entire future by giving herself—completely—to the man she loves. But when the truth comes out, Edward may have a few surprises of his own for the new Mrs. Rokesby.
Nevada Baylor has a unique and secret skill— she knows when people are lying—and she's used that magic (along with plain, hard work) to keep her colorful and close-knit family's detective agency afloat. But her new case pits her against the shadowy forces that almost destroyed the city of Houston once before, bringing Nevada back into contact with Connor "Mad" Rogan.
Rogan is a billionaire Prime—the highest rank of magic user—and as unreadable as ever, despite Nevada's "talent." But there's no hiding the sparks between them. Now that the stakes are even higher, both professionally and personally, and their foes are unimaginably powerful, Rogan and Nevada will find that nothing burns like ice . . .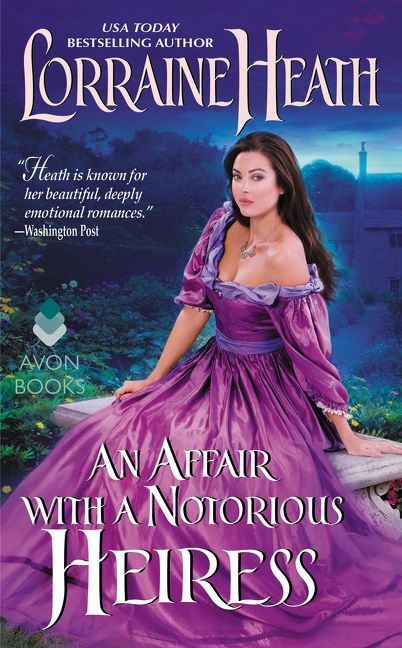 An Affair With A Notorious Heiress by Lorraine Heath
The son of a duke and an infamous mother, Alistair Mabry, Marquess of Rexton, fought his way to respectability. Now, the most eligible bachelor in London, marriage-shy Rexton will take only a wife with an impeccable reputation, good breeding, and a penchant for staying out of the gossip sheets. But when he strikes a deal to be seen "courting" a sweet young debutante whose notorious older sister has blemished her chances for marriage, Rexton is unexpectedly drawn to the highly inappropriate, calamitous Tillie, Lady Landsdowne herself.
After a scandalous incident that sent shockwaves throughout society and disgraced her, Tillie refuses to cower in the face of the ton. Instead, she will hold her head high as she serves as chaperone for her younger sister, but Tillie is convinced Rexton's courtship is shrouded with secrets—ones she vows to uncover. However, doing so requires getting dangerously close to the devilishly handsome and forbidden marquess…
From Duke Till Dawn by Eva Leigh
Eva Leigh launches a seductive new series that sizzles with the dark secrets of London's underworld…
Years ago, the Duke of Greyland gave his heart—and a princely sum of money—to a charming, destitute widow with unparalleled beauty. But after one passionate night, she slipped from his bed and vanished without a trace. And just when he's given up hope of ever seeing her again, Greyland finds her managing a gaming hell. He's desperate to have her… until he discovers everything about his long-lost lover was a lie.
In truth, Cassandra Blake grew up on the streets, picking pockets to survive. Greyland was a mark—to be fleeced and forgotten—but her feelings for the duke became all too real. Once he learns of her deception, however, the heat in his eyes turns to ice. When her business partner absconds with the gaming hell proceeds—leaving unsavory investors out for blood—Cassandra must beg the man she betrayed for help.
Greyland wants compensation, too, and he'll assist her under one condition: she doesn't leave his sight until her debts are paid. But it's not long before the real Cassandra—the smart, streetwise criminal—is stealing his heart all over again.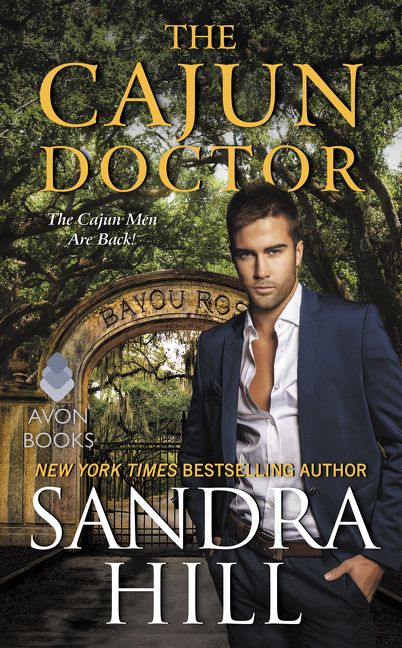 The Cajun Doctor by Sandra Hill
Dr. Daniel LeDeux and pilot Aaron LeDeux travel to the swampy bayous of Louisiana, where they discover a long-lost family. The usually stoic Daniel, a burned-out pediatric oncologist, is especially startled by the interfering LeDeux matriarch, Tante Lulu, bless her crazy heart, who wastes no time in setting him up with local rich girl Samantha Starr.
Scarred by a nasty divorce from a philandering New Orleans physician, Samantha has sworn off men, especially doctors. When Samantha's step-brother gets into serious trouble, she must ask Daniel for help. But Samantha faces even more trouble when the handsome doctor casts his smoldering Cajun eyes her way.
The steamy heat of the bayou, along with the wacky matchmaking efforts of Tante Lulu, a herd of animal rescue rejects, including a depressed pot belly pig, and some world-class sexual fantasies create enough heat and humor to make both Daniel and Samantha realize that love and laughter can mend even the most broken heart.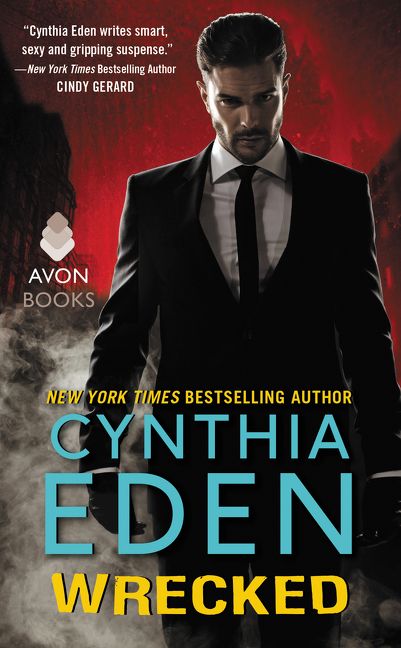 In New York Times Bestselling Author Cynthia Eden's gripping new LOST novel, who's the cat and who's the mouse…?
SHE LEFT HIM ONCE.
LOST Agent Ana Young was only fourteen when she was abducted by a madman, but unlike many kidnapping victims, she did go home. Now, her mission is to find the missing. But her new case has her on the hunt for the escaped convict who's obsessed with her. And Ana has an unlikely partner—the sexy, supposedly-by-the-book FBI agent she had one amazing night with and had to forget.
NOW HE HAS TO PROTECT HER 24/7…
FBI Special Agent Cash Knox knows that Ana, the petite, tough-ass former bounty hunter, can get the job done again. But this time, someone else leads them to "Bernie-the-Butcher," someone who's been watching Ana. Waiting for her.
FROM A CRAZED KILLER.
Now, catching a deranged murderer means Ana must trust her guarded heart to the gorgeous, complicated G-man she wasn't supposed to fall for.